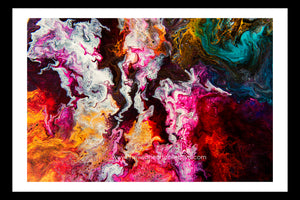 Beautiful Chaos was born out of a crazy collaboration of colours - during a moment in time where there wasn't the exquisite peace and harmony I crave when I'm painting.... so why paint you ask?
Because the paint was poured & mixed & ready for it's next path. Being the stubborn, independent and peace-seeking person I am, thought "gah! well I have to paint now!" - yes, perfect mental space for creating art lol! ;)
The artist within was seeking something .... patience, solitude, freedom and the need to create.... and the desire to create something magnificent - yet in reality, nothing was really conducive to creating anything remotely resembling that!
The more I painted, the more I grew to resent it & myself with pushing ahead when I should've not bothered - perhaps it really was not the right atmosphere for painting. 
I was close to writing it off. It was nothing like what I would normally paint. I actually did not like this piece at all ... for days. And then at different times during the day, I would find myself walking passed it and looking at it some more. The more I looked at it, the more I came to love all the fiery pieces that bring this one together... 
Sometimes, the stars align and a gorgeous creation can be born ... other times, the worlds collide - yet amazing things can and do, still happen. 
Proof that one can still paint whether happy, sad, frustrated, harmonious, desperate, elated, conflicted, disrupted, busy, distressed or peaceful .... the result will still be something that was destined to pour out of me, in that moment of time.
And that is what I am at peace with - what was destined to be born in that moment.... this Beautiful Chaos :)
I have taken some creative licence from the original Beautiful Chaos to create Runnin' Down a Dream.... like trying to catch a rainbow ... ya gotta stick with it if you want to make that dream come true.
The Wild Heart Collective Australia is excited to provide our artworks & photographs in 4 products that are supplied direct to you!
1) Art Mounts (matt prints) with a print size of 8"x10" and outer matt size of 11"x14" starting from $45.00!
2) Classic Canvas starting from $225!
3) Professionally Framed Fine Art Prints starting from $295!
4) Boxed/Floating Framed Canvas starting from $395!
The Wild Heart Collective Australia provides a first class service to customers including:
A FREE Wall Art Guide!
FREE virtual proofing service so you can see your chosen artwork in your space prior to purchase!
FREE shipping within Australia!
Trade discounts to Australian businesses with an ABN. We welcome professional connections with interior decorators, designers, builders and architects and look forward to providing a large range of vibrant artworks and stunning photography for your residential & commercial applications.
Each photograph & artwork featured here is watermarked & given the 'virtual proof' touch. Your purchase will be free from watermarks & 'mock up framing'.
There is a significant amount of information on our FAQ Page providing details about products, guarantees, wall art sizing, placement recommendations, custom design, return policies, copyright, size conversion & much more.
We have chosen product sizes that will best maintain the original image ratio, however, depending on size, some cropping may occur or we may recommend an alternative product size that best compliments your piece.
We believe that everyone, everywhere, has the right to see beauty, feel happy & experience the joy and pleasure that comes from owning a Wild Heart Collective piece. We look forward to making that dream come true for you!
All images, photographs, paintings and artworks are Copyright © The Wild Heart Collective, ©The Wild Heart Collective Australia and © Wild Heart Photography Hervey Bay, all rights reserved.