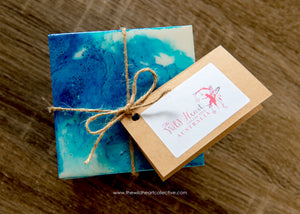 If you would love your very own set ofåÊ2 ceramic tile, resin covered coastersåÊin your favourite colours, it's time to create a gorgeous one of a kind, custom design!
Simply add your coasters to the cart and then on checkout, let us know your 2-5 chosen colours by typing them in to the 'add a note to your order form' on the cart page. Or - reach out to us via the 'contact us tab' or email nik@thewildheartcollective.com - make sure to let us know your timeframe and we'll take care of the rest!
This makes a special personalised gift or an awesome addition to your home decor.
Your coasters will arrive unboxed, wrapped in twine and ready to enjoy.åÊ They will be meticulously packaged for shipping to ensure they arrive safe n sound from our door to yours.
SIZE:åÊOuråÊcoasters measureåÊapproximately 100mm x 100mm & once finished, sit approximately 10mm high. They are covered, enhanced and protected by resin and are finished with a cork base.åÊ
CARE INSTRUCTIONS:åÊWhile the resin itself is durable, waterproof, heat & scratch resistant, please take care to gently wipe over your coasters after use with a damp soapy cloth, wipe over with water and dry with a tea towel.åÊWe do not recommend acquainting your coasters with the microwave or dishwasher lol!åÊPlease refer to our FAQ page for further information on resin and care instructions.
LEAD TIME:åÊA custom design setåÊwill need a lead time of approximately 10-14 days to allow for correct paint colours, supply of materials, other mediums, plenty of curing time for the resin and time to apply the cork base and allow all the elements to heal and evolve into your final piece.åÊ
RUSH ORDER:åÊA rush order will have your custom design completed within 7 days, however, we will need to price accordingly. Please understand that due to resin curing times, we can not guarantee any custom order for resin products, will be ready prior to 7 days.
MATCHING SET:åÊWe are also proud to offer a matching set of a Bamboo Tray, Acacia Wood Fruit & Cheese Board and 4 drinking coasters in your chosen colours - so ifåÊyou would love your very own customised kitchen decor in your favourite colours, please contact us at nik@thewildheartcollective.com :)
WANT MORE?åÊ Want to know when we have more original hand painted bamboo trays, acacia wood boards and drinking coasters? Please subscribe to our mailing list and we'll let you know when we have more originals available for sale. If you don't want to wait, order your own custom set today! :)
We thank you for your interest in The Wild Heart Collective!