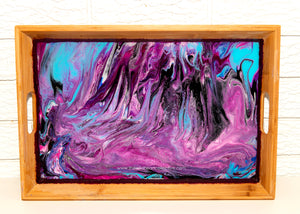 * FOR SALE *
Our originalåÊhand painted bamboo and resin serving tray is created using high quality acrylic paints, inks, pigments and resin. These vibrant, colourful serving trays are sure to impress at your next event!
Discotheque is a fascinating mix of teals, magentas, vividåÊ purples, whites and blacks ... edged with a dark magentaåÊon the base of the side walls, this serving tray is a fun and funky creation!
Once the paint dances across the canvas, it will flow, evolve and unravel however it feels.... revealing the creation of a beautiful, vibrant, happyåÊand enchanting dream.
SIZE: Our Bamboo Tray is approximately 500mm x 340mm x 50mm.
CARE INSTRUCTIONS: While the resin itself is durable, waterproof, heat & scratch resistant, the bamboo itself may be reluctant to go for a swim! Please take care to gently wipe over your tray with a damp soapy cloth and dry with a tea towel before allowing to air dry. Please refer to our FAQ page for further information on resin and care instructions.
CUSTOM DESIGN: If you love this bamboo serving tray and would like one of your own in your favourite colours, select CUSTOM DESIGN BAMBOO TRAY from our Personalised Gifts and Custom Design Collection. Or just email us at nik@thewildheartcollective.comåÊ
LEAD TIME: A custom design tray will need a lead time of approximately 10 days to allow for correct paint colours, other mediums and plenty of curing time for the resin so please advise when you would like your tray ready by.
MATCHING SET: We are also proud to offer a matching set of a Bamboo Tray, Acacia Wood Fruit & Cheese Board and 4 drinking coasteråÊin your chosen colours. Select CUSTOM SET from our Personalised Gifts and Custom Design Collection if you would love your very own customised kitchen decor in your favourite colours.
WANT MORE?åÊ Want to know when we have more original hand painted bamboo trays? Please subscribe to our mailing list and we'll let you know when we have more available for sale :)
We thank you for your interest in The Wild Heart Collective!