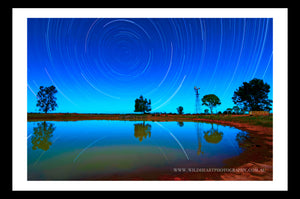 Star Trails - LV Western Queensland
Years ago... my husband & I had the good fortune of visiting with relatives who owned a magnificent cattle property in outback Queensland. We absolutely loved the serenity, the stars and the moos. The tranquility, the fresh air and the storms re what we lived for.
One night after dinner, we jumped in our truck to capture a star trail over one of the dam's on the property... I anticipated we would be out anywhere from 2-6 hours - depending on weather.

We pulled up beside the dam, there was a slight breeze, the stars were twinkling in all their magnificence, with not one city light to dull their shine. The perfect country night.

Half way through the shoot, I jumped out of the truck to take out the camera battery and put in a freshly charged one so that it would 'go the distance'.

As I jumped out of the truck with new battery in hand - a horrible pungent dead smell violated the night air - and me, closely followed by my poor nose.

But the car door was open - I was committed.... I held my breath, ran like the wind down to my tripod, exchanged batteries and ran back to the car - to the safety of normal, non contaminated, non dead air smell!

Lesson learned for star trails:- Do recon during the day to ensure all around is ok, safe & perfect - even if the wind changes direction!

Turns out our cattle farmer had unfortunately lost a beast near the dam. Being the cheeky bugger that he was, he thought it would be funny .... not to let me know lol.
This star trail is dedicated ~ to our farmer ... and his beast.
The Wild Heart Collective Australia is excited to provide our artworks & photographs in 4 products that are supplied direct to you!
1) Art Mounts (matt prints) with a print size of 8"x10" and outer matt size of 11"x14" starting from $45.00!
2) Classic Canvas starting from $225!
3) Professionally Framed Fine Art Prints starting from $295!
4) Boxed/Floating Framed Canvas starting from $395!
The Wild Heart Collective Australia provides a first class service to customers including:
A FREE Wall Art Guide!
FREE virtual proofing service so you can see your chosen artwork in your space prior to purchase!
FREE shipping within Australia!
Trade discounts to Australian businesses with an ABN. We welcome professional connections with interior decorators, designers, builders and architects and look forward to providing a large range of vibrant artworks and stunning photography for your residential & commercial applications.
Each photograph & artwork featured here is watermarked & given the 'virtual proof' touch. Your purchase will be free from watermarks & 'mock up framing'.
There is a significant amount of information on our FAQ Page providing details about products, guarantees, wall art sizing, placement recommendations, custom design, return policies, copyright, size conversion & much more.
We have chosen product sizes that will best maintain the original image ratio, however, depending on size, some cropping may occur or we may recommend an alternative product size that best compliments your piece.
We believe that everyone, everywhere, has the right to see beauty, feel happy & experience the joy and pleasure that comes from owning a Wild Heart Collective piece. We look forward to making that dream come true for you!
All images, photographs, paintings and artworks are Copyright © The Wild Heart Collective, ©The Wild Heart Collective Australia and © Wild Heart Photography Hervey Bay, all rights reserved.